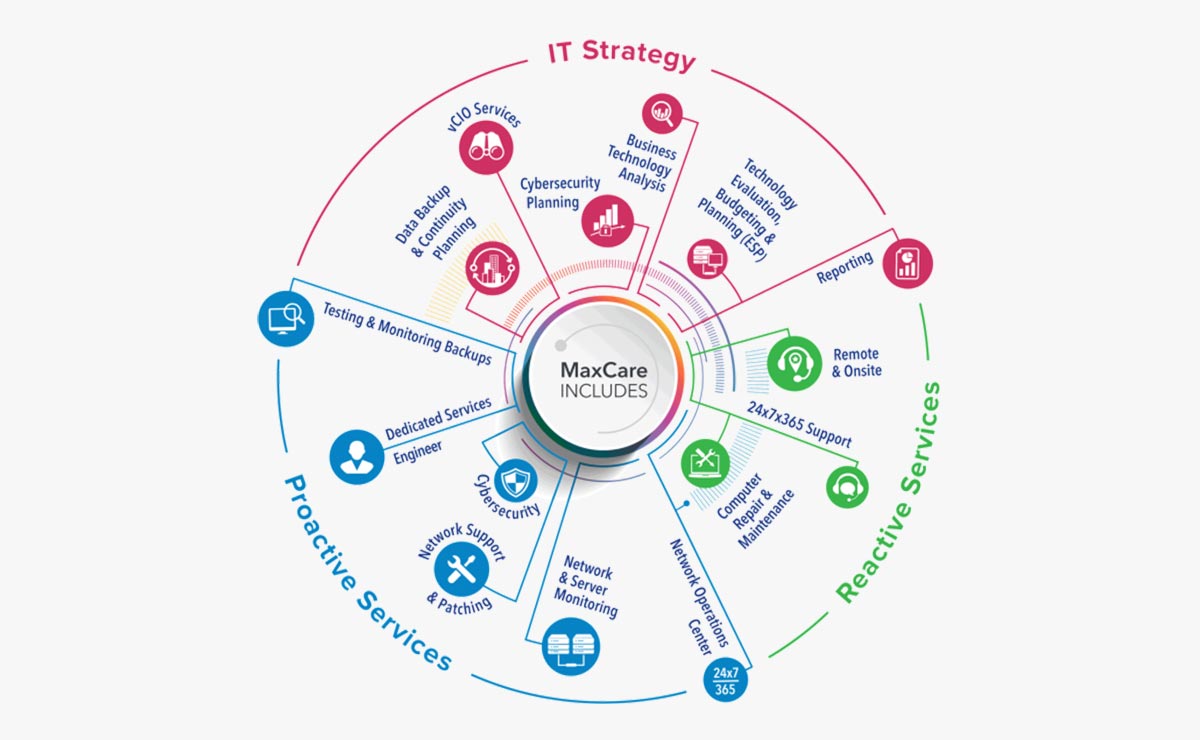 The shift to remote working isn't just about workers setting up home offices. It also entails the increased outsourcing of the management of certain aspects of a business to a third party that's often partly or entirely offsite.
Managed IT services are perhaps the most common example of this trend as they're a proven way for businesses both small and large to reduce costs, improve the quality of service and free up in-house teams to focus on the company's core, revenue-generating work.
What are managed IT services?
While the exact services rendered by a managed IT service provider can vary considerably, they typically take on responsibility for setting up, managing and developing a company's IT infrastructure.
The extent of a managed IT service provider's responsibilities is defined from the outset through a Service Level Agreement (SLA). This agreement can mean assuming management of a business's entire IT infrastructure or it may mean providing more tailored services aimed at reducing or supplementing the workload of an existing in-house IT team.
Managed IT services are provided by a Managed Service Provider (MSP) and some of the many tasks and functions they offer include:
24/7 technical support – in-person, on the phone, and over the internet
Remote monitoring and management of IT hardware and infrastructure – for instance, servers and workstations
Patch management and updates
Installing hardware and software
Security services (ie monitoring, penetration testing, threat hunting, and incident response)
Configuring, monitoring, and managing cloud services
An MSP's services are typically provided on the basis of a monthly subscription fee.
A simple way to understand the role of MSPs is to consider the more traditional IT managed support services model, commonly known as the 'break-fix' model. This form of IT support is synonymous with the question "Have you tried switching it off and on again?"
As its name and this line of questioning imply, the 'break-fix' approach is reactive. IT services are only at hand when a problem arises. The support is not continuous, and there are often no other services on offer other than fixing what has gone wrong.
Unlike the subscription model of MSPs, IT service providers operating under the break-fix model tend to charge by the hour. So you'd better hope the IT issue you have isn't a time-consuming one.
A managed IT provider offers more comprehensive support, and the benefits they provide to your business can be substantial.
What are the benefits of managed IT services?

Adopting the break-fix model might seem appealing for companies looking to reduce their monthly operating costs. But the proactive approach of an MSP can bring significant added value to your company that basic, reactive IT service providers simply don't offer.
Here are three of the main benefits of using an MSP:
1. More cost-effective
Building and maintaining a dedicated in-house IT team is expensive. The costs of training, salaries and recruitment are considerable and often unpredictable. The costs of an MSP, however, are competitive and fixed. In essence, you are paying for the expertise of the MSP, not for the associated costs of maintaining full-time employees.
Using an MSP also means that you are only paying for the services that you need, as set out in the SLA, rather than having staff on the payroll that you may not necessarily have a use for at a particular time.
On the other hand, when faced with a major technical issue, it will save you time and money to have an MSP at the other end of the line to solve the problem rather than relying on a break-fix service provider charging on-the-job or on staff who may be tied up with other important tasks.
2. Improved reliability, efficiency and focus
Managed IT services from an MSP under an SLA offer peace of mind. The SLA makes crystal clear what services to expect and how they will be delivered. It is then up to the MSP to fulfil these requirements and ensure the maintenance and performance of your IT infrastructure at all times.
An in-house IT team, meanwhile, typically flits between being over and under-worked, often assuming responsibility for tasks that may be beyond their remit or competence. They are also generally tied to a 9 to 5 schedule.
An MSP, however, is focused entirely on their designated responsibilities and is more flexible in how they carry them out. MSPs can perform system updates and other maintenance tasks outside of office hours, which results in better uptime management and fewer disruptions to your staff's workflow.
What's more, since the costs of an MSP are fixed, it is in their interest to closely monitor your IT system for any potential issues before they become a major headache. Even beyond this, a managed IT service provider has an incentive to offer guidance and make recommendations on how to best optimize your IT strategy and infrastructure. This benefits the MSP, and it also means productivity gains and an increased ROI for your company.
3. An MSP is invested in your business's success
This is another crucial distinction between managed IT service providers and the break-fix approach.
While a break-fix provider may be quite content to see your IT system fail once again, since that means another payday, MSPs want your business to succeed. They are essentially a business partner.
That's because as your business grows with more users on your IT systems, the value of the SLA increases. MSPs, therefore, are geared towards scaling up alongside your business.
This also brings a strategic element into the relationship between an MSP and a company looking for a managed IT service provider. MSPs want to sit down and discuss the company's vision and trajectory as they are invested in its success. The growth of a business and the scaling-up of IT infrastructure go hand in hand, so such strategic discussions must take place.
How to choose a managed services provider (MSP)

Managed IT services can range from the very general to the ultra-specific, depending on the needs of your business.
Do you already have an IT team and need support with one specific project? Or are you starting from scratch and planning to scale up your operations rapidly?
Do you simply want to cover basic services like monitoring and maintaining equipment, managing systems, and remote monitoring and management of servers and networks? Or do you want to make full use of an MSP's proactive approach with services like patch management, predictive maintenance, and strategic reviews?
The best managed IT service providers understand that each business's IT requirements and strategic objectives will differ and, as such, will offer tailored services accordingly. When considering what you are looking for in terms of a managed IT service, keep the following points in mind:
1. Assess current IT systems
You need a thorough understanding of your current IT system before making any decision on how to manage it with an MSP.
What infrastructure and workflows need to be managed? What resources do you already have at your disposal? And what is your budget?
Future needs also come into this. If you already have an IT team, is the role of the MSP supplementary or will they assume more extensive responsibilities? If you don't have an IT team, then it is cheaper to obtain the services of a managed IT provider, but as your company grows there can also be benefits to slowly developing an in-house team as well.
2. Audit your current IT systems
After determining your IT service needs, it's a good idea to draw up a shortlist of suitable MSPs and ask them to carry out an audit of your IT infrastructure. This will reveal whether or not they have the expertise to take responsibility for your system and show how familiar they are with the hardware and software you are using or intend to use. It is also a chance to assess their understanding of your industry, such as what compliance standards may apply to your systems and data.
3. Scalability and flexibility
A suitable MSP must be able to grow with your business. To do this, they need to have greater reserves of bandwidth, expertise, and manpower than you initially need.
If they don't, then your MSP will be a bottleneck slowing your company's growth.
An MSP that has its resources stretched is one that's not flexible. Given the unpredictability of IT issues, you need them to be able to fulfil their SLA obligations at the drop of a hat.
4. Find an MSP with a proven track record
Ask a prospective MSP whether it has worked with organizations similar to yours. If it has, then inquire as to the value the MSP's services brought to the company, then ask to speak with someone from that company to get a fuller picture and verify the claims.
A reliable and reputable MSP with a proven track record will have nothing to hide in this regard.
If the prospective MSP has no such experience with a company like yours, then you either need to look elsewhere or focus on other redeeming qualities it may have.
5. Make strategic IT planning part of the agreements
Managed IT service providers should go beyond maintenance and monitoring. They should also work with you to strategically plan upgrades to infrastructure, as well as configuration changes and additions.
To do this effectively, the MSP needs to have an in-depth understanding of your IT infrastructure and how it can align with your company's growth objectives.
This point gets to the core of what a managed IT service provider can offer. Managing IT infrastructure isn't just about putting out fires. It's about anticipating and mitigating against threats, as well as laying the foundations and pathways that will allow your business to flourish.
At Vertikal6, we offer new prospective clients a free strategy session in which we analyse your IT setup and provide data-driven insights that help your business grow.
Contact us to schedule a free IT strategy session today.
Click below or call our Rhode Island headquarters at: 401-825-4400.