Why Us?
Vertikal6 became one of the fastest growing managed IT service providers in New England by consistently delivering on our promise to clients: to provide strategy-driven IT solutions that are custom-designed to fuel business growth and make your life easier.
Unlike those offered by most IT service providers, our managed IT services and solutions are never one-size-fits-all. Instead, they're developed by our highly qualified team of engineering experts to dovetail with your company's unique requirements. And they're delivered by a team that regularly earns top customer satisfaction ratings.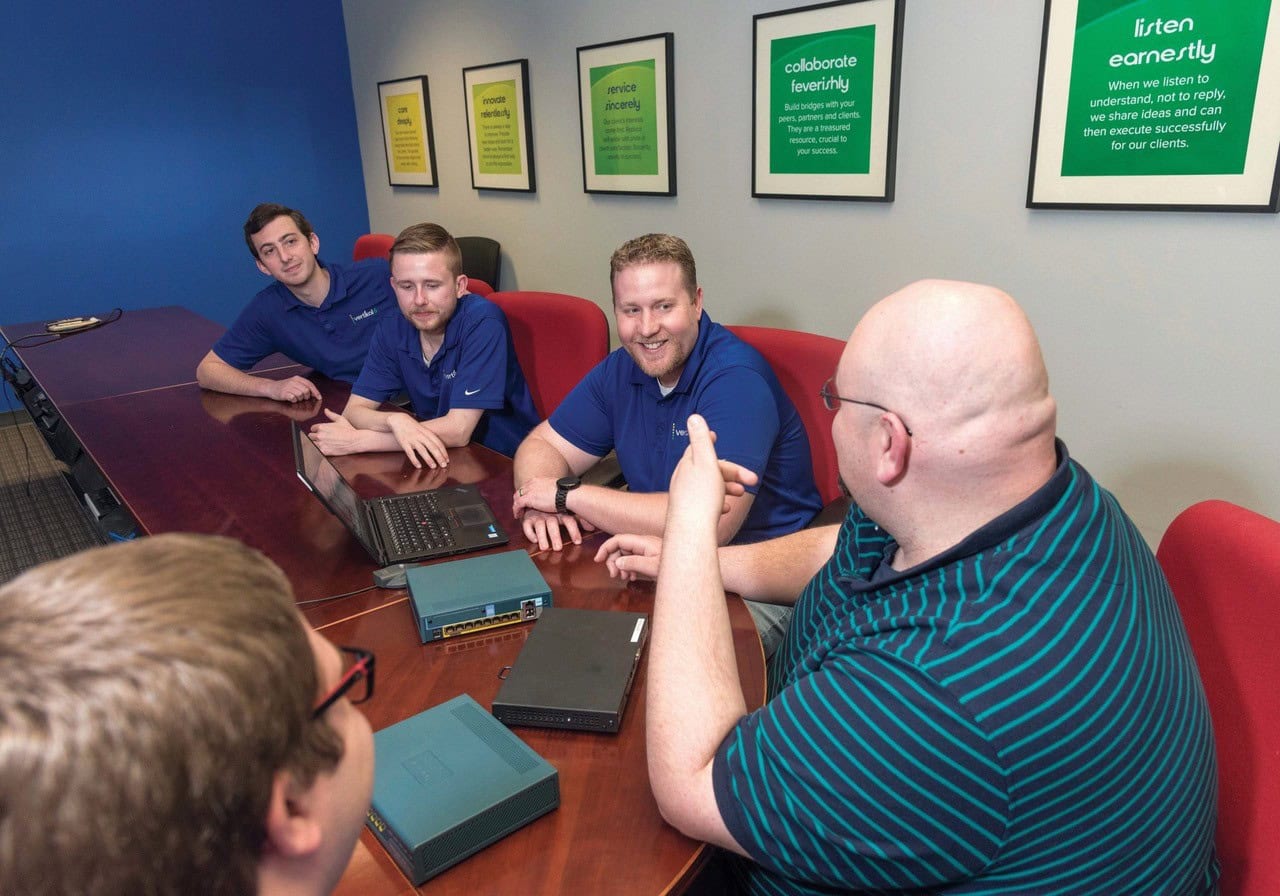 Unique Strategic Approach
Our Elevated Strategy Platform (ESP) gives you insights no one else can offer.

24 x 7 x 365 IT Support
Our expert team provides personalized IT support, anytime.

98.4% Customer Satisfaction Rating
Our caring, professional IT support team earns consistently high satisfaction ratings.
6 Reasons to Choose Vertikal6

Our clients gain exclusive access to our award-winning strategic planning solution, the Elevated Strategy Platform (ESP). Together with insights from our expert technical team, ESP can show you how to better align your use of technology with your business goals. This will keep you ahead of the competition and help your company become more agile, innovative, and future-oriented.

With more than a century of collective experience and over a dozen of the industry's leading certifications, our networking, engineering and IT support teams bring a diverse and comprehensive skill set to every client project and managed IT service engagement we undertake. We're also a Microsoft Gold Certified Partner and have trained with multiple leading technology vendors to be able to offer best-of-breed solutions. When you choose Vertikal6, you can rest assured that only the most highly qualified professionals are part of our team.

Extensive Industry Knowledge
Vertikal6 has been providing managed IT services to clients in healthcare, biotechnology, manufacturing, and professional services for many years. We're served small and midsized businesses as well as nonprofit organizations. As a result, we understand your unique needs and requirements, and have become expert as developing solutions that are custom-tailored to meet them.

Customer-Centric Approach
Our reputation for providing outstanding experiences to our IT HelpDesk clients was built on our attention to detail, by providing our team with extensive ongoing training, and because our employees take pride in cultivating soft skills alongside their technical expertise. No IT issue is too small to warrant our care, attention, and assistance.

We've been included among Providence Business News's Best Places to Work five times for good reason. Our employees are passionate about community involvement, teamwork, and helping others. And they're proud to be part of an innovative organization that has also received the PBN Business Excellence Award and has been recognized as a Best and Brightest Company to Work For.

Always-on Network Monitoring & Support
We provide the area's only 24x7x365 HelpDesk alongside our Network Operations Center (NOC). Our friendly and highly experienced team of professionals is available at any time of day or night to answer questions, and we also monitor the health and performance of your IT systems on an ongoing basis to reduce downtime and maximize security.
In Our Clients' Words
Don't take our word for it. Learn about what it's like to work with Vertikal6 in the words of our customers.
Contact us to schedule a free IT strategy session today.
Fill out the form or call our Rhode Island headquarters at: 401-825-4400.