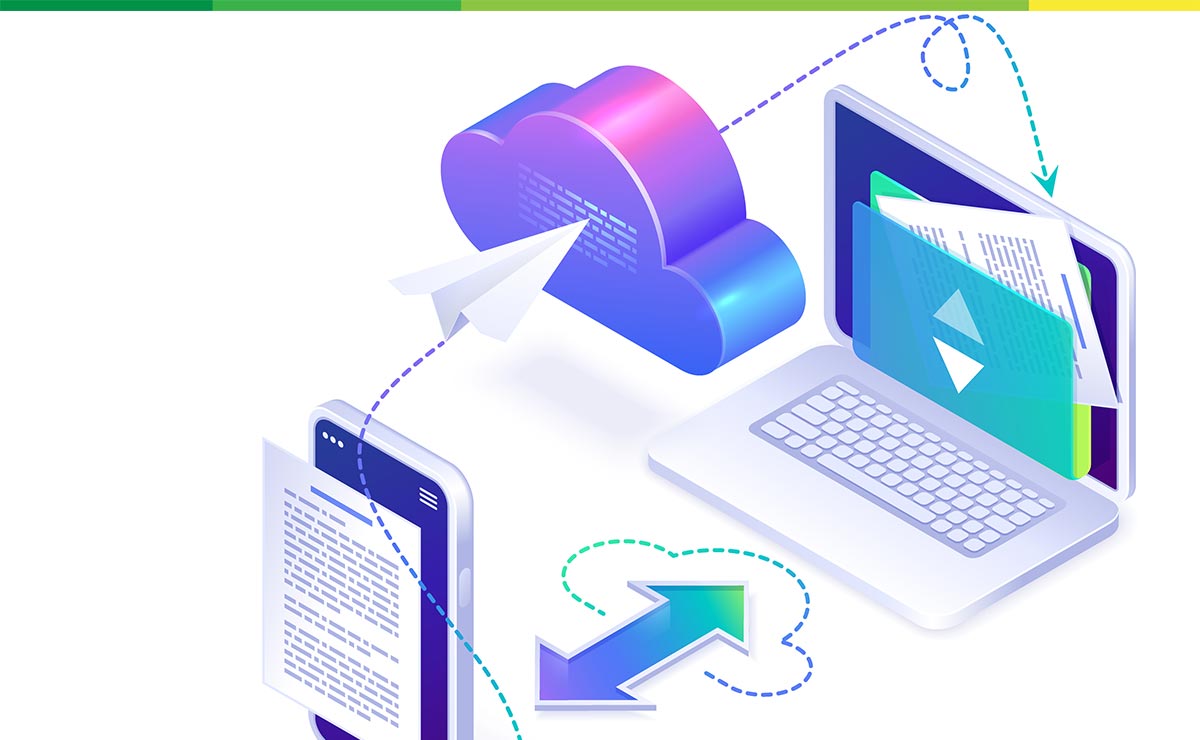 The rise of cloud-based services is one of the hallmark features of the digital transformation. The 2022 State of the Cloud Report, courtesy of Flexera, found that 100% of 753 businesses surveyed use the cloud in some form or another.
Instead of relying on on-site computing infrastructure, more and more organizations are realizing the benefits of migrating their IT processes, applications and data to the cloud.
The shift to remote working, improvements in server technology, and increasing cost-effectiveness mean cloud migration is now at the heart of many organizations' digital transformation strategies, from the largest corporations to small local businesses.
Developing and implementing a robust cloud migration project plan is therefore of crucial importance for organizations that want to keep pace with the new digital landscape.
What Are the Benefits of Cloud Migration?
The cloud allows companies to use and access their applications and data in a more secure and cost-effective way while enhancing overall performance. Specifically, the cloud offers:
Increased flexibility
Greater scalability
Tighter security
More elasticity
Lower costs
Many organizations have found that their existing IT infrastructure has become a barrier to growth. Using the cloud opens up new possibilities, helping them to remain competitive.
Cloud Migration Project Plan: 4 Key Steps
There are clear benefits to cloud migration, but implementing it successfully with the least possible disruption is no small task. On top of security and cost considerations, you need to determine what type of migration best suits your business's needs.
This is why you need a clear and detailed cloud migration plan in place before you get started. To help you on your way, here are four key steps of any successful cloud migration project plan.
Cloud Migration Project Phases
Preparation
Cloud Migration Strategy Formulation
Infrastructure Planning
Transition
1. Preparation
Get everyone on board
Cloud migration isn't just the concern of your IT department. Nor is it simply a matter of switching technologies.
It is also a wholesale cultural change that requires the buy-in of every department and employee if it's going to work.
Cloud migration can entail changes to employees' roles, as well as how your business operates day-to-day. This means that staff may require retraining or they may need to be reassigned to a new role altogether.
Senior and executive staff must be sensitive to these demands and the effect they can have on staff. They also need to make sure everyone supports the transition, and the best way to do this is to communicate the benefits, address concerns, and ensure adequate support and training are in place.
Secure necessary funding
Many businesses undertaking a cloud migration have found their funds run dry halfway through the process. This is the worst possible outcome as it leaves your organization vulnerable to security threats and failures.
Cloud migration costs can quickly spiral out of control, from data storage, security services, employee training and recruitment to the new tools required for testing and monitoring.
To avoid this, senior executives need to work closely alongside those implementing the cloud migration to craft and sign off on a financial plan.
Appoint a cloud architect
The cloud architect leads the migration. It's their responsibility to design and implement each step of a cloud migration project plan. This means:
Designing migration strategies
Determining the cloud requirements
Defining cloud migration priorities
Needless to say, this is a crucial role and your organization should expend considerable resources to make sure it has the right person on board.
Map out your current infrastructure
You need to know your starting point before working out where you want to go.
Mapping out your existing IT infrastructure enables you to visualize what your ultimate cloud environment will look like.
There are multiple tools available that can help you with this, and it doesn't just benefit your cloud architect and IT team. The insights can also be shared with non-technical employees so they can understand the process better, which helps with the overall transition.
2. Work Out Your Cloud Migration Strategy
Determine the extent of your migration
Migration doesn't necessarily mean all on-site computing infrastructure is moved to the cloud. Indeed, most organizations either can't or don't need to commit to this.
Shallow vs. deep:
A shallow migration, otherwise known as lift-and-shift, means transferring applications to the cloud largely as they are other than targeted modifications to ensure they continue to run smoothly.
A deep cloud migration, on the other hand, entails significant changes to your applications to make full use of cloud capabilities, such as auto-scaling, serverless computing, and dynamic load balancing.
Single cloud vs. multi-cloud vs. hybrid cloud:
Cloud migration can involve a single cloud, multiple cloud providers or a hybrid model of public and private clouds.
Opting for a single cloud is simpler and cheaper, but has its limitations. As such, it is best suited to organizations with basic requirements.
A multi-cloud approach is more difficult to integrate into your company's existing IT infrastructure but it provides a great deal of flexibility as you can select cloud service providers based on their particular strengths. For instance, you may opt for one provider to manage data storage, and another to deal with your applications.
The hybrid cloud model, meanwhile, combines private (on-site) and public (off-site) cloud services into one integrated service. This gives organizations another layer of flexibility and agility in how they choose to deploy and manage their data.
3. Plan Your Cloud Infrastructure
Map out your desired cloud infrastructure
After mapping out your current IT infrastructure, you then need to do the same for your desired cloud infrastructure.
Using a mapping tool, you can outline your organization's workloads and set your preferred outcomes to create a clear outline that will help you choose which cloud provider(s) would work best for you. This step is crucial for identifying potential issues and working out how to overcome them.
Establish KPIs and performance baselines
As with any significant organizational change, it's important to assess the effectiveness of your cloud migration.
You can measure this by defining your Key Performance Indicators (KPIs) and then comparing these with your current performance baselines once the migration is complete. KPIs may include metrics such as page load times, lags, CPU usage, and conversions, and can help diagnose problems resulting from the migration.
Ensure data security
Cloud migration presents data security risks. To mitigate against these, you should do the following:
Encrypt data
Prioritize compliance
Develop a plan to prevent data loss
Carry out due diligence on prospective cloud service providers
Another option to boost your security is to implement a phased migration, rather than doing it all in one go. This makes the migration process more manageable and, as such, reduces risks.
4. Complete The Transition
The final step is to make it happen.
With staff buy-in, funding, expertise, a detailed map of your current IT infrastructure and a clear plan for your desired cloud infrastructure all in place, the next and final step is to implement.
Of course, even the best laid plans can go awry. That's why having 24/7 support from a managed IT services provider is so vital. In addition, your dedicated cloud migration team, whether in-house or not, needs to be in close contact with other key stakeholders within your organization., such as your cybersecurity staff, so that any issues can be quickly resolved.
After all, cloud migration is a complex process, but a well-considered plan where roles, responsibilities, and goals are clear to everyone in your organization throughout can ensure it goes seamlessly.
Contact us to schedule a free IT strategy session today.
Click below or call our Rhode Island headquarters at: 401-825-4400.