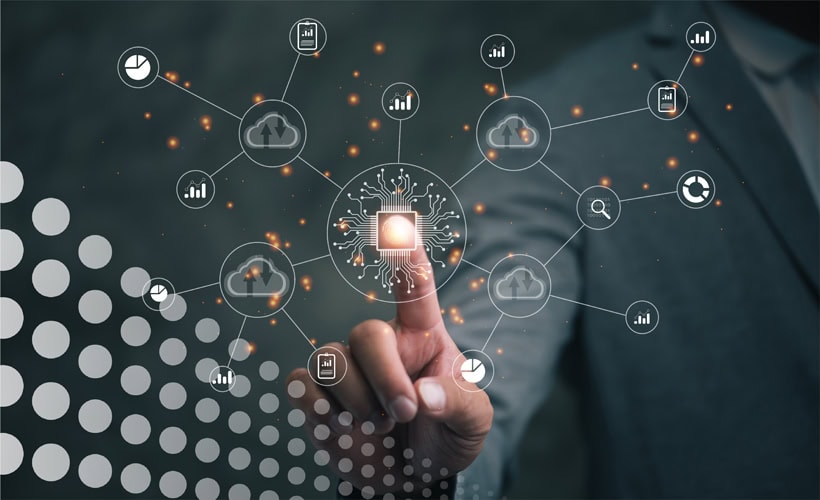 Managed IT services facilitate the operations of your business in many ways, but what is included in such services?
While managed IT services can range from general to specific and partial to complete, here's what you should expect when you choose your IT infrastructure to be managed by an external party rather than an in-house IT team.
24/7 technical support

No matter what hour of the day, a problem with potentially disastrous implications may arise. If that happens, you need to be able to count on IT experts to prevent damage while minimizing any downtime.
As such, managed IT service providers should offer around-the-clock technical support, whether in person, on the phone, or online.  Technical support teams can then remotely execute troubleshooting and attempt to resolve any issues. If the problem concerns hardware, then they must be able to appear onsite to carry out repairs.
Whatever the issue might be, this support must be at hand 24 hours a day, 365 days of the year so the issue can be quickly addressed and your business can continue to operate with minimal disruption.
Remote monitoring and management of IT hardware and infrastructure
Managed IT services can include remote monitoring and management of your IT infrastructure to ensure it functions smoothly at all times.
The managed IT services provider installs monitoring agents on your company's servers and workstations to collect data and to observe parameters such as the usage of CPU, network performance, disk space, and memory utilization.
The collected data is sent to a centralized monitoring system in real time which allows the technicians to always be updated on the performance and health of your company's IT infrastructure.
If predefined thresholds or unexpected issues arise, the monitoring system immediately sends an alert to the IT team and provides them with detailed information such as system diagnostics and historical data to identify the root cause of the problem.
IT support staff are then able to immediately resolve the issues and eliminate any danger of downtime.
Remote access capabilities allow the IT team to securely connect to your company's servers and workstations without being physically present to carry out system maintenance, configuration changes, and software installations or updates.
Aside from troubleshooting, the remote monitoring system can also help to optimize performance. The constant collection of data allows your managed services provider to review your system performance and draw insights, allowing them to implement improvements to your network configuration.
Patch management and updates
Regular patch management and software updates improve the functionality of your applications, operating systems, and software by making sure everything is up to date.
Managed IT service providers should routinely analyze your company's software and operating systems and implement any available updates.
To test each update prior to full implementation, your IT support team should test the patch or update in a secure environment. If all goes smoothly, the update then gets implemented on the relevant systems.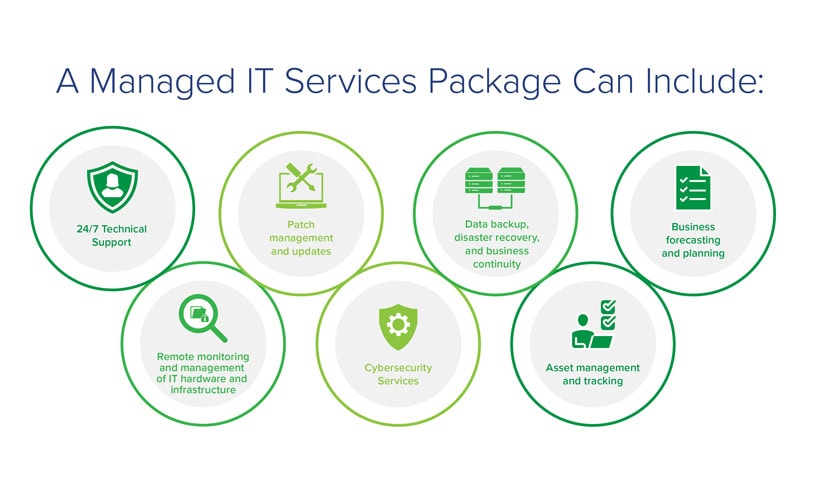 At this point, the managed IT service provider seeks to validate whether or not the installation and functionality of the patch has been successful with a series of tests and reports carried out and received through monitoring software.
A record of the update is often made to assist with future troubleshooting and sometimes to comply with security compliance standards.
Regular patch management and software updates are an essential aspect of managed IT services as they help to maintain the security and stability of computer systems, protect against potential security breaches, minimize system vulnerabilities, and ensure optimal software performance.
Cybersecurity services
With cyberattacks on the rise, protection against the numerous threats that businesses face concerning data and digital assets is a crucial part of managed IT services.
A managed IT service provider should understand this and take measures far beyond installing an antivirus and implementing a firewall.
They must be able to carry out more sophisticated measures, such as threat hunting and penetration testing, that actively seek out potential threats and identify potential weaknesses.
The provider should also implement various security protocols to protect your IT network, such as multi-factor authentication, password management, single sign-on, and access controls. Some of these may even be required by industry security protocol standards, which your managed service provider must ensure you comply with.
The most comprehensive managed IT services provider can even offer employee training to ensure staff understand the risks and know what to do to safeguard against them.
Data backup, disaster recovery, and business continuity

Even with sophisticated cybersecurity measures in place and proactive monitoring of threats and vulnerabilities, data breaches and loss can still happen.
Such an event can be hugely damaging to an organization in terms of reputation, financial costs, and possible legal repercussions.
To mitigate against such damages, a managed IT services provider must continuously back up your data, verify its integrity, and ensure it is stored safely, ideally both onsite and offsite.
If your IT infrastructure suffers a major breakdown, whether from an external actor or a system malfunction, your biggest concern is keeping downtime to an absolute minimum so that you can continue to service your customers.
To ensure you can recover your systems as quickly as possible, a managed IT services provider will work with you on a disaster recovery plan.
Asset management and tracking
One of the biggest difficulties many businesses face with regard to their IT environment is keeping track of all the information that pertains to their hardware and software.
A reputable managed IT services provider can standardize the tracking process so all your devices and software packages are organized in such a way that you can easily find out their age, user details, branch locations, and installed applications, among other useful information.
This helps to streamline deployments, updates, installations and end-of-lifecycle replacements, saving you a great deal of time and stress.
Business forecasting and planning
Perhaps one of the greatest advantages of managed IT services is the inclusion of business forecasting and planning services.
Because a managed IT service provider is invested in the success of your business, they proactively evaluate the needs and objectives of your company against your IT infrastructure. Your IT provider will work with you to determine which new technologies you may wish to adopt in the future, and how to go about implementing them.
Vertikal6 can work with you on developing your IT strategy, starting with a free, no-obligation consultation.
This is just a flavor of what's included in managed IT services. The IT services rendered by a managed service provider can be as comprehensive or as targeted as your organization requires.
The most effective managed IT service providers tailor their offerings to the needs and goals of your business, ensuring you are best prepared for the challenges ahead and well-positioned to take advantage of future opportunities.
Contact us to schedule a free IT strategy session today.
Click below or call our Rhode Island headquarters at: 401-825-4400.