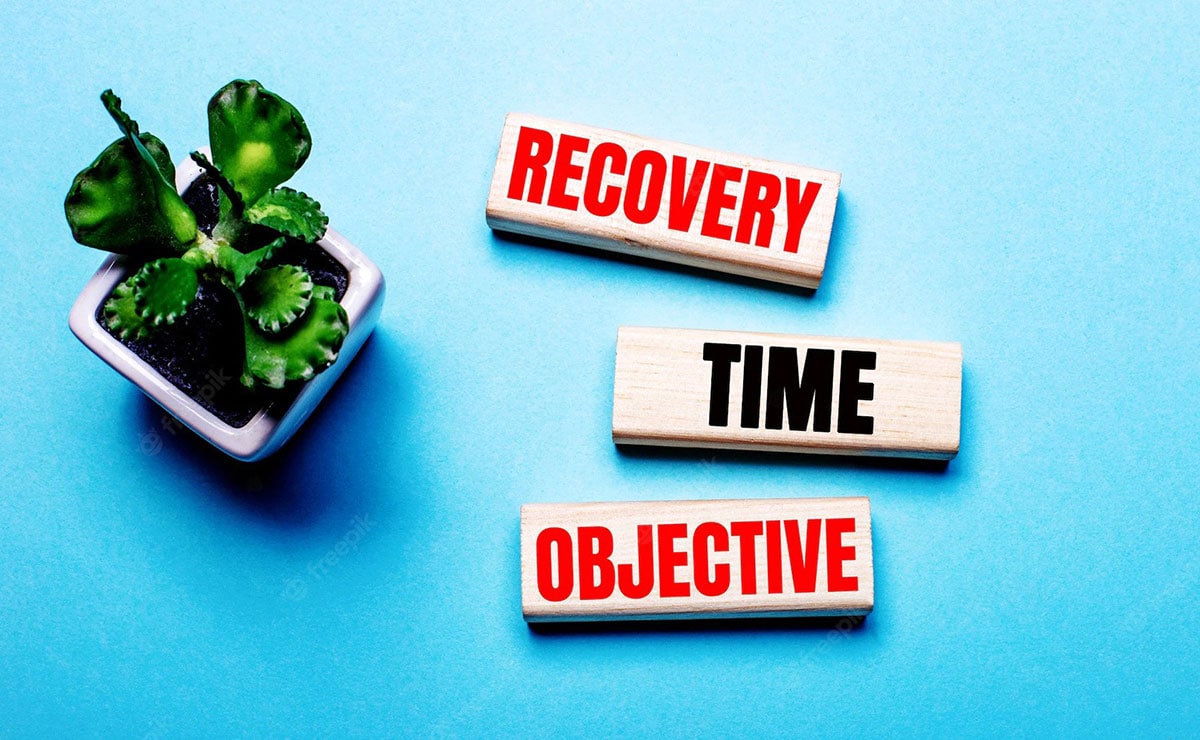 The consequences of cybercrime are numerous. Your data may become corrupted, stolen, lost or destroyed. When this happens, the victim would likely seek the fastest and most cost-effective way of returning their applications and data to their states prior to the point when they were compromised. In other cases, natural disasters or workplace accidents can lead to a similar result.
It is often impossible to completely recover all the functionality of compromised data. Replicating and restoring the data will often be costly and time-consuming. In many cases, it will require a more long-term plan with incremental objective-setting.
If you find yourself in a position like this, there are two separate objectives you can set to restore your data's integrity: Recovery Time Objective (RTO) and Recovery Point Objective (RPO).
What is RTO?
Your Recovery Time Objective (RTO) is the length of time your network or applications can be shut down without causing meaningful damage to your business. Naturally, the RTO can vary widely. Some applications can be down for days before negative consequences are felt. However, some critical applications can only be down for a few minutes before you start to feel the squeeze.
RTO times will normally be shorter for those critical applications. Generally speaking, shorter RTO times are required when an application's loss would result in:
Customer agitation
Employees' inability to continue working
Immense irritation
Anything else that results in lost business
Recovery Time Objectives factor in the steps that IT staff must take to restore all affected applications and data. It's not just a measurement of time between loss and recovery. With the right preparation for these circumstances, an IT team should be able to come up with an RTO measured in minutes or even seconds.
The process of setting your RTO requires your organization to list out applications according to their priority, with items with the potential for worse consequences higher on the list. Then, you must match these priorities with the resources at your disposal. Some items can be handled on-site with an RTO shorter than your working day. Other RTOs may cover several days and need to account for assistance provided by outsourced IT contractors and system integrators.
What is RPO?
Your Recovery Point Objective (RPO) is a measurement of the amount of data and functionality that can be lost before causing significant damage to your business. The actual metric is expressed as a time measurement spanning from the incident time to the last preceding backup time.
The amount of data at risk can vary greatly based on your organization's preparation for such a loss. For example, if your data is regularly backed up, the worst possible outcome is losing all data recorded after the last backup was taken. For example, if data is backed up every 12 hours, you can potentially lose up to 12 hours of data updates.

RPOs must also account for application priority, with each application having its own RPO. Individual RPOs can range from a few seconds to multiple days. In some cases, you'll get a best-case scenario where your backup solutions are in place and the impact on your production systems is minimal. In that case, your RPO could be just a few seconds.
RTO vs RPO: What's the difference?
The main difference between RTO and RPO are the purposes they serve. RTO is naturally more concerned with downtime, while RPO is more concerned with data and data functionality loss. However, both metrics are equally important in prioritizing your organization's recovery objectives and helping ensure everything is running as usual as soon as possible and at minimal cost.
Why RTO and RPO are important for disaster recovery
Both RTO and RPO are equally important for disaster recovery. Both are tools that help you understand the limitations of your business in the face of a crisis. The idea is that when your data is compromised, you have less guesswork to do. You'll have a good idea of what the damage will be and how long it will last. This enables you to act accordingly so that your organization's recovery is as smooth as possible.
By taking the time to anticipate data-compromising events and their consequences, you will be better prepared to respond. It's never fun to deal with cybercrime, accidents or natural disasters, but having a well-planned data recovery strategy in place can help you to mitigate the negative consequences.
RTO and RPO help you prepare in a specific and deliberate way. They account for each specific point of weakness and enable you to recover from a disaster in a much more efficient way. In this way, your RTO and RPO are the safety nets you need to rest easy and know that you're ready for anything and are able to respond to unexpected challenges.
Contact us to schedule a free IT strategy session today.
Click below or call our Rhode Island headquarters at: 401-825-4400.