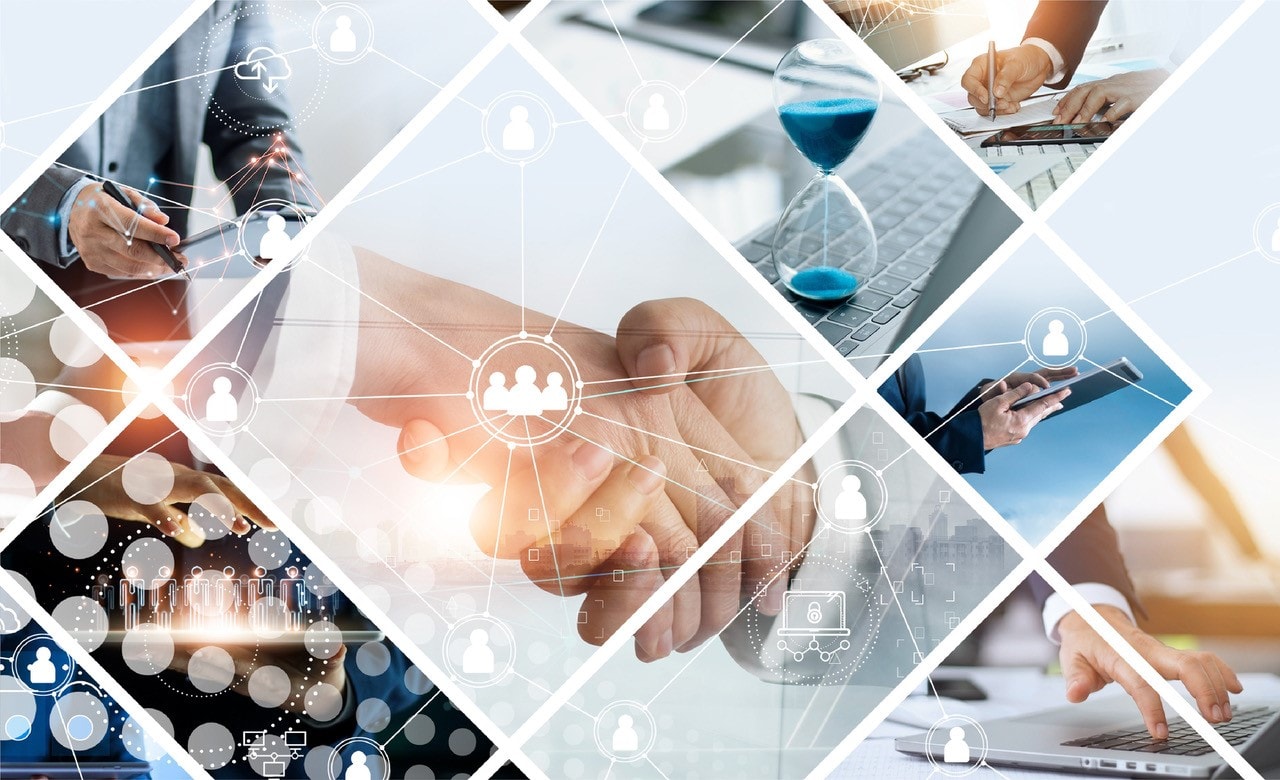 Every business, big and small, needs to have a comprehensive IT strategy in place if it wants to be successful.
Digital transformation has touched the operations of every industry and sector, elevating IT from a back-office afterthought to a crucial element in a business's growth.
Having the right IT infrastructure and services to aid this growth doesn't happen easily though. You need to develop a robust IT strategy tailored to your business's objectives to make it work.
Not only does an IT strategy framework help to define an organization's IT vision and long-term goals, but it also identifies potential technology and skill gaps, and lays out how to measure progress and where to make improvements.
In this article, we will outline the importance of an IT strategy for business, the key elements of robust IT strategic planning, and how you can develop an IT strategy for your company.
What is an IT strategic plan?
A business IT strategy plan is a document that defines the company's technology goals and how they can be achieved. It is, in effect, a roadmap for aligning an organization's investments in technology with its business objectives.
An IT strategy for business details how technology can be used to support the organization's growth, and how this progress can be measured and re-evaluated on an ongoing basis.
What are the benefits of a strategic IT approach?
IT strategic planning enables organizations to compete better in a market where success is increasingly determined by the seamless adoption of digital technologies to support business growth.
A recent KPMG research report makes this clear. It revealed that businesses which had taken a lead, with respect to their competitors, at integrating digital technologies into their organization are 3.5 times more effective at increasing revenues and profits.
This is the bottom line of how an IT strategy framework benefits your business, but here are the key outcomes of an IT strategic plan that serve towards this goal.
1. Aligns IT investments with business objectives
A framework for IT strategy ensures that IT investment aligns with an organization's business goals. A well-thought-out strategy ensures that IT applications, solutions, and services are chosen to meet specific business requirements, leading to measurable improvements.
2. Improves efficiency
The aforementioned KPMG research also revealed that fast adopters of digital technologies showed four times more operational efficiency than their competitors. By leveraging innovative IT infrastructure and services, businesses can optimize workflows and automate tasks. This reduces manual work and allows employees to concentrate on core revenue-generating activities.
3. Enhances security
A comprehensive IT strategy helps organizations to identify security risks, and then implement mitigation measures. Regular IT audits, for instance, help companies identify weaknesses in their IT systems and take measures to improve security.
This is crucial, with cyberattacks against businesses of all sizes increasing in frequency and intensity.
4. Ensures competitiveness
As stated, digital transformation means individual businesses don't have the luxury of deciding whether or not to leverage IT technologies. If they want to compete, they need to do so.
An IT strategy will give your business the best possible chance of staying competitive by improving your delivery of products and services, increasing employee productivity, and potentially innovating ahead of your rivals by employing new technologies such as AI, the Internet of Things, and automation.
What are the main components of a successful IT strategy?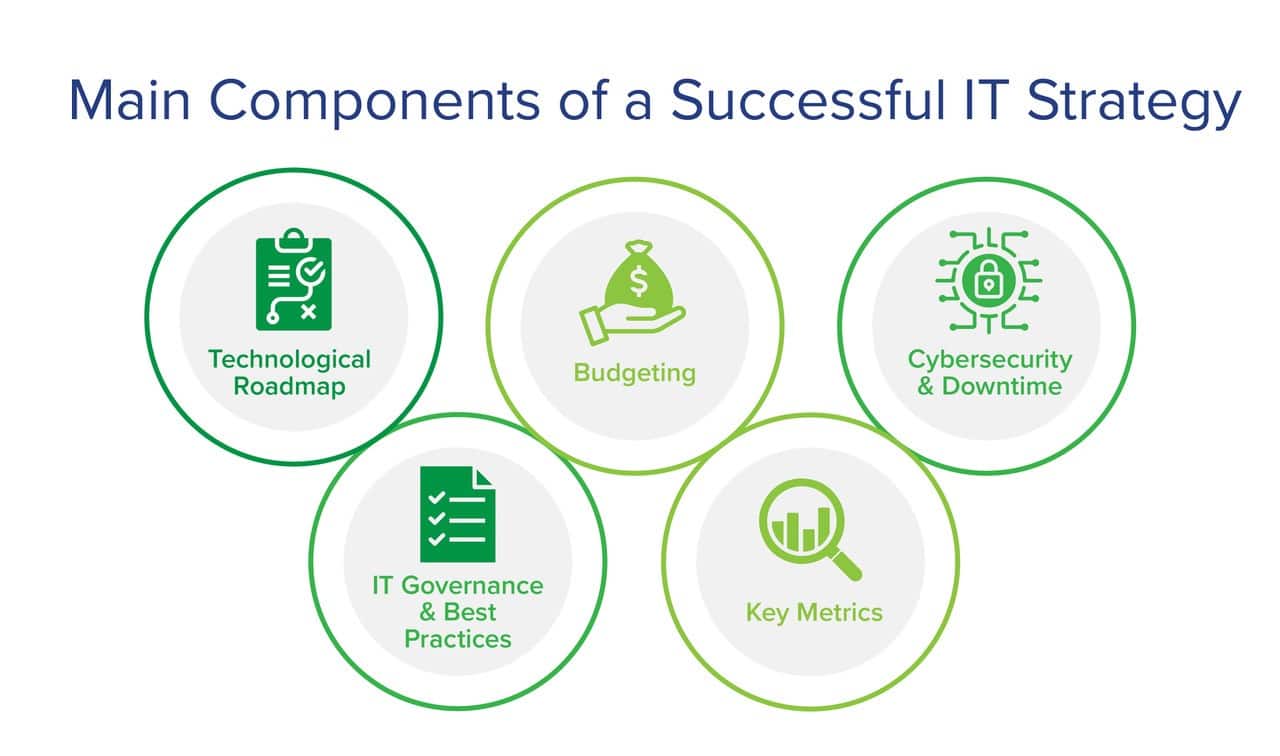 There is no one-size-fits-all approach to a strategic IT plan as the needs and priorities of businesses differ substantially. That said, there are some key elements common to all effective IT strategic plans which we outline here:
Technological roadmap
An IT strategic plan incorporates the business's objectives and long-term IT vision to provide a detailed guide as to what technology is required and how it will be adopted. This could, for instance, concern cloud migration from onsite servers to services such as AWS and Microsoft Azure.
The plan should also analyze the company's current IT infrastructure and services as a baseline from which to work.
Budgeting
Figuring out the most effective ways to allocate your IT budget is key to an IT strategic plan. You need to understand your company's priorities and objectives, and which IT infrastructure and services are most cost-effective at achieving these.
An IT budget also needs to be flexible enough to adapt to changing priorities and new technologies.
Cybersecurity and downtime
A comprehensive IT strategy plan will include cybersecurity measures that identify and minimize potential security risks to keep downtime at an absolute minimum.
Cybersecurity strategy must take into account the latest industry standards and best practices, and training should be provided to employees to increase awareness and competence.
IT governance and best practices
IT governance concerns the responsible use of sensitive data and best practices for minimizing cybersecurity risks. Many companies are legally obliged to follow certain IT standards so it is imperative to detail how these will be met in an IT strategic plan. Other standards are voluntary, but failure to comply puts your business at a serious competitive disadvantage.
Key metrics
An effective IT strategic plan outlines the key performance indicators of IT infrastructure and services so that progress towards overarching goals can be tracked, and interventions made if necessary.
How to develop an IT strategy
Those are the main elements of an IT strategic plan, but how do you go about developing it once you have analyzed your current IT infrastructure and determined your business's long-term objectives and IT vision? Follow these rules to develop an IT strategy for your organization:
Include all stakeholders
IT is no longer a simple back-office task. It is a major determinant of the success of an organization and it touches on all the roles performed in the organization.
All stakeholders, therefore, such as senior management, IT staff, and end users, should be included in the IT strategic planning process to ensure their perspectives and needs are taken into consideration, and that they are on board with the plan.
Keep it simple and clear
With many stakeholders involved at various levels, the plan must be as easy to understand as possible. Avoid complex terminology and concepts where possible as this will put off employees and performance will suffer as a result.
Evaluate regularly
An IT strategic plan is not a monolithic document that remains unchanged. It must be reviewed regularly to make sure it is still aligned with your organization's goals and priorities.
Regular evaluations can help identify any gaps and identify emerging technologies that could be beneficial to the organization. As such, an IT strategy plan must be in a state of constant evolution, and subject to adjustments in response to changing circumstances.
Seek external expertise
The prospect of formulating an IT strategy plan that will work is daunting for many small to mid-size enterprises that lack the resources to have a full-fledged IT department but still don't want to be left behind in terms of IT infrastructure and services.
For such organizations, recruiting the expertise of an outsourced IT services provider helps to plug this gap, ensuring access to high-quality consultations and services without requiring a significant upfront capital investment.
IT Strategic Planning Services with Vertikal 6
Vertikal 6 understands the importance of IT strategic planning and can help your organization align its guiding vision with its technology strategy.
Our award-winning software application, Elevated Strategic Platform (ESP), gathers data from all aspects of your business, provides continuous insights into the health of your IT system, and informs our tailored strategic road mapping.
Ensure that your organization harnesses the transformative power of technology to become more resilient, efficient, creative and agile by getting in touch with one of our expert consultants for a free strategy session.
Contact us to schedule a free IT strategy session today.
Click below or call our Rhode Island headquarters at: 401-825-4400.