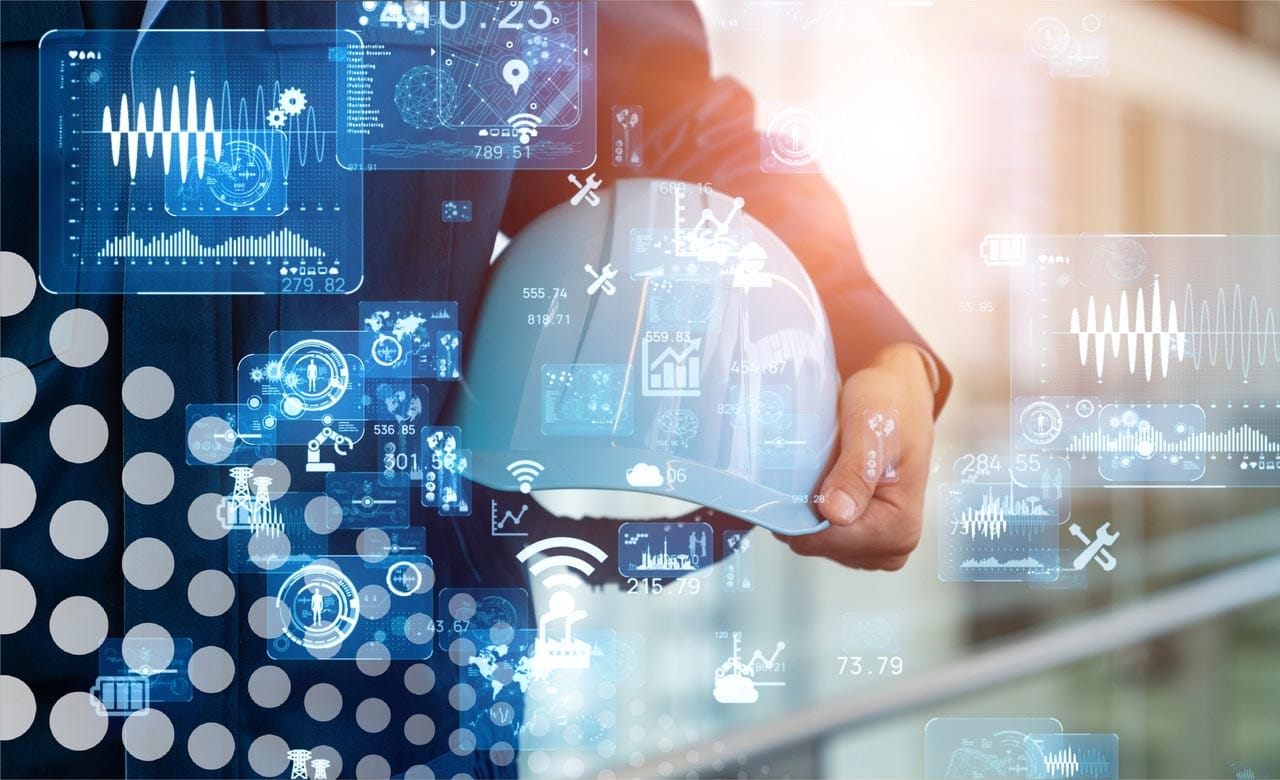 Information technologies have profoundly transformed the business world to the point where a comprehensive IT strategy is nowadays required to ensure a company's competitiveness.
The logistics industry, for instance, has revolutionized its operations with the help of IT tools and strategic planning. Construction companies, however, often overlook IT as a potential game-changer that can deliver huge benefits.
In this article, we will outline the various information technologies available to construction companies and how businesses can take advantage of them with the help of a robust IT strategy.
Which new IT technologies boost the efficiency of construction companies?
The IT repertoire is rich and ever-growing. You can significantly increase the efficiency of your construction company by choosing to invest in any of the following technologies:
Building information modeling (BIM)
BIM allows construction businesses to visualize and analyze a project based on 3D models and relevant data prior to the build, including design, planning, materials, and schedules. It allows for better collaboration and coordination among various stakeholders, reducing errors and delays during construction.
Internet of Things (IoT)
This network consists of interconnected devices and sensors that can be embedded in various objects on the construction site to collect and analyze data.
Implementing such systems enables your company to monitor equipment, track worker safety, and optimize resource utilization. This can be especially useful if one of your objectives is to reach a sustainability target regarding the building's energy efficiency.
Furthermore, the constant monitoring of data reduces risks and shortcomings on the construction site, such as running out of materials or equipment and only realizing this when you need to use them. Tasks of this nature, including orders for materials, can be automated using IoT technology.
Virtual reality (VR) and augmented reality (AR)
Virtual reality and augmented reality can act as a reliable assistant on the construction site by allowing access to virtual models and data in real time. This can help with the visualization of complex construction designs, the identification of potential problems in advance, worker training and conducting of virtual site inspections.
Project management software
You can choose among platforms like Procore, PlanGrid, or Autodesk BIM 360, which all allow you to manage and track project progress, assign tasks, collaborate on documents, and communicate with stakeholders.
These tools help streamline communication, coordination, planning, and management processes so that you can focus more on the core tasks that deliver real value to your business.
Cloud-based solutions
The utilization of cloud computing technologies allows seamless data sharing and collaboration among project teams, allowing access to critical information from anywhere, improving productivity and decision-making.
Drones
With the capability to capture high-resolution imagery and video and generate accurate 3D models, drones can be an invaluable tool for construction companies that help to map and survey site locations.
Benefits of IT for construction companies
A well-thought-out IT strategy primarily benefits construction companies by enhancing their operational efficiency. Here is an overview of how this is achieved.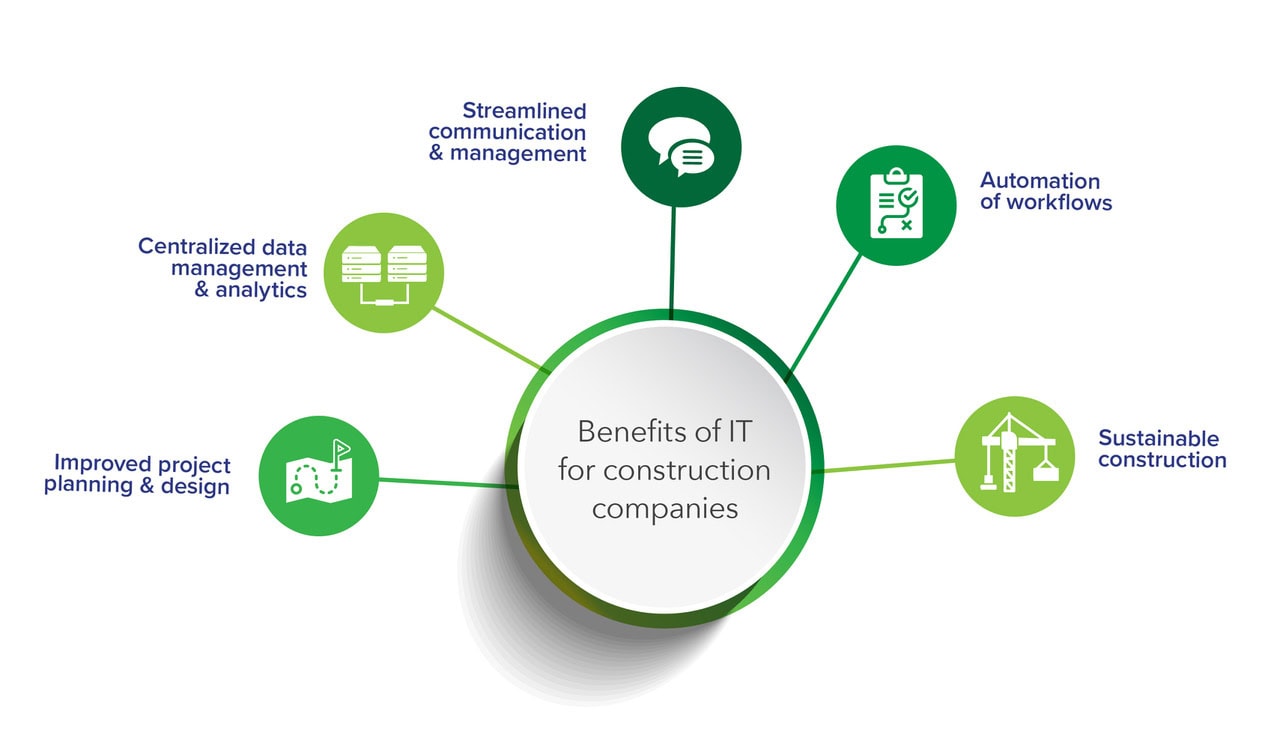 Improved project planning and design:
IT tools like Computer-Aided Design (CAD) software and the aforementioned Building Information Modeling (BIM) facilitate the creation of highly detailed and accurate project plans that optimize the operation before construction begins.
By identifying and resolving potential problems, your construction company will save time and money while enhancing overall efficiency.
Centralized data management and analytics:
Construction projects generate vast amounts of data related to design, project costs, resource utilization, equipment, and more.
IT tools can be used to collect, centralize, and analyze these large data sets, which can provide valuable insights. Failing to utilize this data is a missed opportunity, as an analysis enables quick data-driven decision-making and predictive analysis, improving project outcomes and business performance.
Streamlined communication and management:
Construction companies should seriously consider acquiring adequate tools to optimize communication between project partners and stakeholders and to coordinate different teams successfully.
When changes in the design have been decided on, the plan has changed, or an issue needs to be resolved, this needs to be communicated to everyone, and access to documents or information has to be shared. To ensure efficient time management, scheduling applications and other planning tools can be extremely helpful.
Automation of workflows:
Repetitive and time-consuming tasks, such as document management, project tracking, scheduling, resource allocation, and accounting, can be automated in order to manage time and resources more efficiently while minimizing human errors.
Sustainable construction:
If your construction company aims to design energy-efficient buildings and infrastructure, the IoT network, energy management systems, and smart sensors are indispensable for optimizing energy usage and monitoring the environmental impact.
Improved quality control:
IT systems can facilitate better quality control processes by tracking construction specifications, identifying deviations, and implementing corrective actions promptly.
How to develop an IT strategy for your construction company
To make effective use of these technologies for the benefit of your construction company, you need to develop an IT strategy tailored to your organization's unique needs and goals.
To do this, follow the below steps.
1. Identify needs and goals:
The first step is to assess the specific needs of your company while defining your main objectives.
What are areas for improvement, and how could they benefit from IT solutions? Are you trying to reduce costs, increase efficiency, improve communication, or optimize data collection and analysis?
Thoroughly assess your business goals and the status quo in order to determine focal points. Once you know where to situate the problems, it will be easier to find the right IT solutions for you.
2. Assess the current IT infrastructure:
Before implementing new technologies, you should evaluate the IT infrastructure that is currently in place.
Consider the hardware, software, network capabilities, and data storage that your company uses while assessing their scalability and security. Are any of them lacking in efficiency?
If they complicate rather than facilitate the operations of your business, it is probably time to initiate change.
3. Involve stakeholders:
The IT strategy for your company should not be thought through behind closed doors. It is important to include your stakeholders, such as project managers, IT personnel, finance, and operations teams.
Inquire about the challenges the employees of various departments face and how they could imagine IT tools being implemented. As you are shaping an IT strategy for your company, you must consider the insights of the people working there.
4. Define your IT objectives:
After identifying your general business goals and assessing the status quo, you should think of what you aim to achieve with implementing new IT technologies.
Identify the objectives of your IT strategy and explore the options by evaluating their benefits, costs, and requirements for their implementation.
5. Establish priorities and budget:
You need to prioritize some areas for investments based on the identified needs as well as the potential impact.
When creating a budget, you should consider not only the expenses for hardware and software but also the ongoing operational costs such as licensing, maintenance, and training.
6. Create an implementation plan:
Develop a detailed roadmap that outlines the steps and timeline for implementing your new IT strategy. As part of this, you should consider factors such as necessary training or sequencing and potential dependencies of technology rollouts.
7. Monitor and evaluate:
An IT strategy is a work in progress, and you should not aim for a static solution. Therefore, its effectiveness should be continually monitored and evaluated.
Measure key performance indicators, gather user feedback, and, most importantly, keep verifying whether the IT strategy still aligns with your business objectives. When problems arise, needs evolve, goals change, or new technologies emerge, adjust your IT strategy accordingly.
IT strategic planning with Vertikal6
There is no doubt that every construction company would benefit from an IT strategy to optimize its overall performance as well as its business approach. Nevertheless, it is hard to know where to start, what aspect to focus on, and how to manage investments.
Thankfully, you don't have to create this strategy alone. Vertikal6 is here to assist your construction company in navigating the vast world of IT and all its possibilities and benefits.
We offer a free strategic consulting session in order to see how we can help your business grow. Our experts will gladly guide you through this process and help you elevate your construction company to the next level.
Contact us to schedule a free IT strategy session today.
Click below or call our Rhode Island headquarters at: 401-825-4400.